Restaurant review: New York Grab & Go
New York City offers free meals to everybody. How's the food?
Origin
Nonprofits in New York City have been giving free food to the poor since the late 1700s.
But a year ago the City itself began offering free meals to every human being in New York—universal single-payer food. Mayor Bill de Blasio appointed a COVID-19 Food Czar, Kathryn Garcia, to create, operationalize and oversee a structure for working New Yorkers to get the food they need during this pandemic. Within days, under the auspices of this GetFoodNYC program, the city's Department of Education was dispensing Grab & Go meals, gratis, at almost 500 locations to any and all comers. Show up, choose from the menu, and take as many meals as you want, no questions asked.
The Grab & Go program was not fundamentally distinct from a major restaurant chain, especially during the take-out era, except that it was government-run and the meals were free. By June 2020, the mayor said it was providing about a half million meals per weekday, while a companion program was delivering about a million meals per day. According to the food czar, about 30 food providers, restaurants, caterers, farms, [and] consorti[a] were participating.
In the food czar's words, it was essential that every meal is healthy, and meets and exceeds the minimum requirements for protein, for vegetables, for grains, doesn't contain too many calories, or too much sodium, and is not expired. She also said nothing should go to waste. Finally, It's very important that you are getting something that you will eat.
A year later, in April 2021, Grab & Go is still operational, and the city says it is committed to continuing this approach at least every summer.
Business model
The target consumer population has been variously described:
So, sources differ. Is Grab & Go a fixed-sum resource that is unethical to deplete unless you are hurting? Or does it, like public education, depend on participation by rich and poor alike to avoid degradation? Or are you, by not partaking, causing meals to enter the food-waste stream? There is merit to each of those claims.
Results
The food czar acknowledged faults reported by officials and journalists and said improvements had been made in response. She insisted that good enough is not good enough. We want to continue to strive to make our program better, and we want to hold ourselves, and our food providers, to the highest expectations.
But let's be frank: Something that you will eat is not the highest expectation for restaurant food. Successful dining establishments aim to provide meals that you adore and rave about. They would be devastated if reviewers wrote I was willing to eat it.
So, how successful has Grab & Go been in achieving its (ambiguous) mission—and do the meals rise above mere edibility?
The program was evaluated in July 2020 by the city's Independent Budget Office. Its report ignored food quality. It dealt only with access and volume. The findings: Grab & Go locations were well placed for low-income neighborhood penetration and proximity to students, but patronage was too low to satisfy more than a fraction of the need.
What fraction? That depends on the target market. If it was all New Yorkers, then Grab & Go plus the delivery program would be achieving about 6% of the expected volume. If it was only New Yorkers in poverty, the success rate would increase to about 24%, but only if (unrealistically) 100% of the meals were consumed by people in poverty.
Given the price ($0.00), why the weak demand? One possible cause is the schedule: Grab & Go is open for business 10 hours per week!
Yes, you must arrive between 3 and 5 p.m. on a weekday. Impractical if, as the mayor originally claimed, the target customers are working New Yorkers. Even then, you may find that the schedule has been changed or service suspended with minimal, no, or (as the adjacent photo illustrates) contradictory notices.
One example
A Grab & Go location on the Upper West Side illustrates the weak demand. It is one block from the thousand-unit low- and moderate-income Amsterdam Houses, but the foot traffic is barely noticeable.
Any effort to boost the customer flow? No. As of March 2021, there were no banners, sign spinners, beacons, barkers, sandwich boards, email blasts, snail-mail flyers, or search ads. Just an inconspicuous door label, adjacent to five other door labels. A barely legible sign at the sidewalk advertises meals, but only for public-school students, so a passer-by could easily conclude that no meals for the public are available. NYC Food Policy said (by email) We make all efforts to raise awareness about our feeding sites, but meager might be a more accurate adjective than all.
If you are curious enough to ascend the stairs or ramp and approach the doors, there is a GRAB & GO MEALS label on one door, but it says nothing more. What is a Grab & Go meal? Who is entitled to it? What does it cost? When can you get it? Not disclosed.
In April 2021, more than a year after Grab & Go opened for business, banners appeared outside its locations announcing FREE MEALS FOR ALL!. Finally, the sites have become easy to identify from the street, and it is obvious that the meals are free and available for all. But the banners still do not state how and when a person can get the free meals, or what they contain. The important fact that customers need not present any identification is stated—in English. But it is mistranslated into Spanish as NO ES NECESARIO. Moreover, if you follow the banner's instructions and send the text message NYC FOOD to 877-877, the reply is Thanks for texting! Reply with your full address to get connected to free meals for kids. Yes, not for all, but for kids! Suppose you have children, or you don't but are not deterred, and you reply with an address. I replied with an address only 3 blocks from a Grab & Go location, but the reply was We don't have site data for your area at this time. Check with 'GetFoodNYC', call 311, or visit https://rb.gy/b5liep to find meal sites near you. The first of these destinations is too vague to act on, and the third is obsolete, though the user is redirected to a map tool for finding food sites.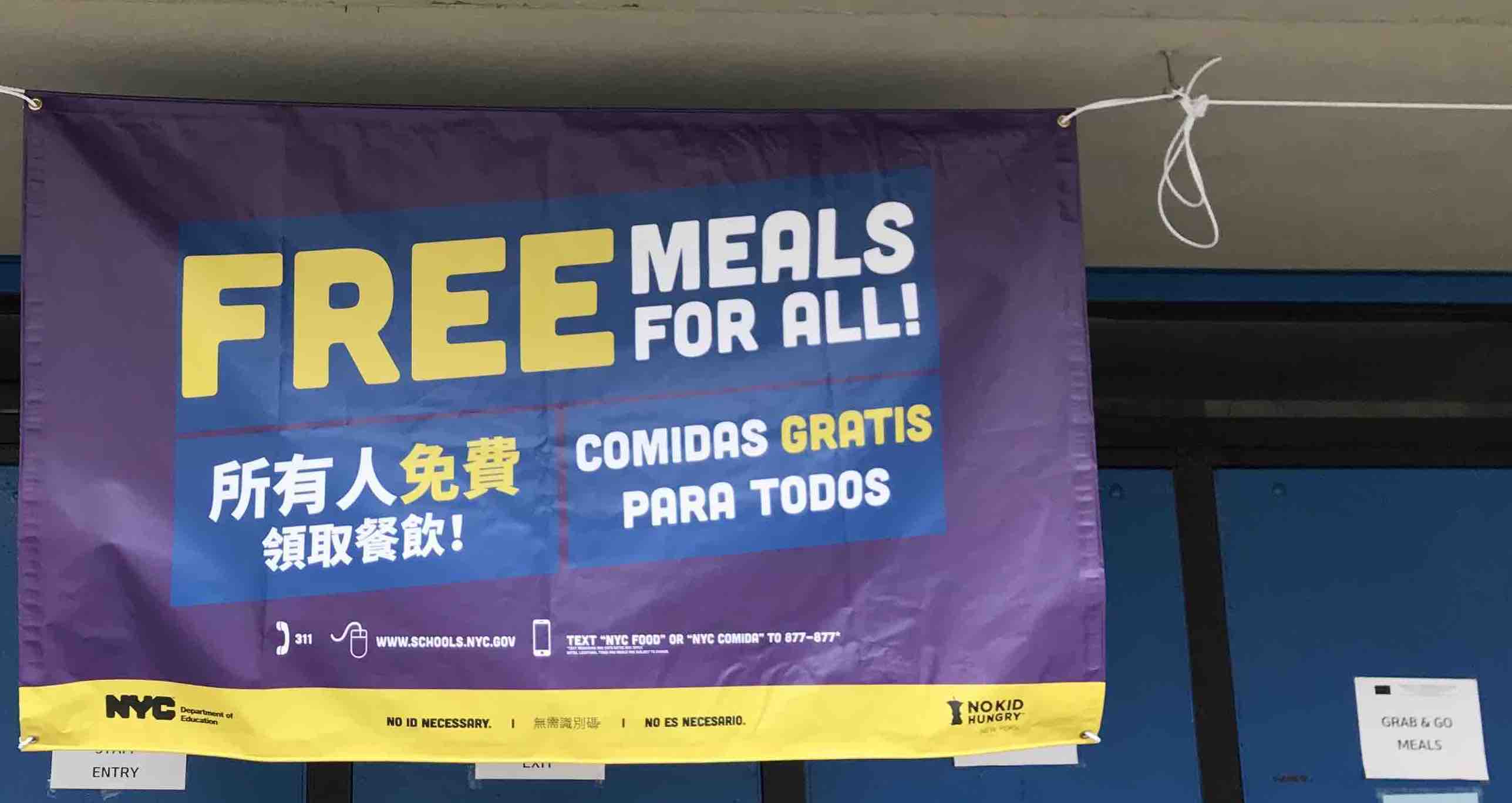 If you become aware of Grab & Go and visit the official website of the City of New York to learn more about it, suppose you click the search icon and enter food.
The hits on the next page are sorted by relevance, and the first hit is NYC Food.
That looks promising, so you click it. What appears? Oops: the dreaded 404 page.

Being stratospherically persistent, you surmise that the URL was a typo, and nycfoods should really have been nycfood. So you delete the s and try again. Eureka! You have ferreted out the website of NYC Food Policy.
You continue navigating. With seasoned guesses, you successively click Programs, then Food Assistance & Access, then Emergency Food, then FoodHelp.nyc Food Map. That produces an interactive map of food sources, mentioned above. It includes Grab & Go meals. If you can understand several paragraphs of instructions (such as Set the buffer distance) and maneuver on a web map tool, you may manage to find a Grab & Go location near you and learn when it is open. But using the same tool twice in a row may show you a Grab & Go once, and then hide it the second time. Even when you find one, the instructions say Grab & Go meals at NYC schools, tempting you to misinterpret them as student-only meals. The map also contains inaccuracies (such as a Western Beef grocery store that closed two months ago) and no method for reporting errors.
You might expect the Department of Education, which administers Grab & Go, to inform you about it. It tries, but feebly. Its Community Meals web page has these breadcrumbs: Home ▸ School Life ▸ Food ▸ Community Meals. Would anybody expect Grab & Go to be buried inside School Life? The department says on that page, Members of the community can pick up meals from 3:00 pm – 5:00 pm, Monday to Friday at locations across the city. Please view the DOE calendar for more information. But it reneges on that offer, because the calendar link's destination page is silent about this topic.
So, Grab & Go is not stamped TOP SECRET, but the barriers to awareness, understanding, and access are formidable. No surprise that Trader Joe's has lines two blocks long, while Grab & Go (at least in the observed location) has none.
Food
Still, the food itself might make Grab & Go (as we used to say) go viral. Is it convenient, varied, fresh, delicious, nutritious, and environmentally benign? Is it appealing enough to generate word-of-mouth fame and influencer peddling that could fill the publicity void? Or do customers, after trying the meals, advise their friends and relatives not to bother?
Grab & Go publishes a bit of information about the meals. It says that vegetarian, Halal, and Kosher meals are available at some or all locations. It also lists items that may be offered, namely Baked Ravioli, Beef Burgers, Burrito (Southwest), Buttermilk Biscuits, Buttermilk Pancakes, Chicken (Oven-Roasted & Sliders), Fish Patty, French Fries, Garlic Toast, Grilled Cheese, Jamaican Beef Patty, Mac & Cheese, Mozzarella Sticks, Omelet, Pizza, Stuffed Shells, Turkey (Oven-Roasted and Breakfast Sausage Patty) and Waffles.
Without actually inspecting the meals, you could wonder whether the meals include fruits and (except for french fries and garlic) vegetables.
Let's kill the suspense by addressing the question that the Independent Budget Office chose not to ask: How's the food?
Convenient?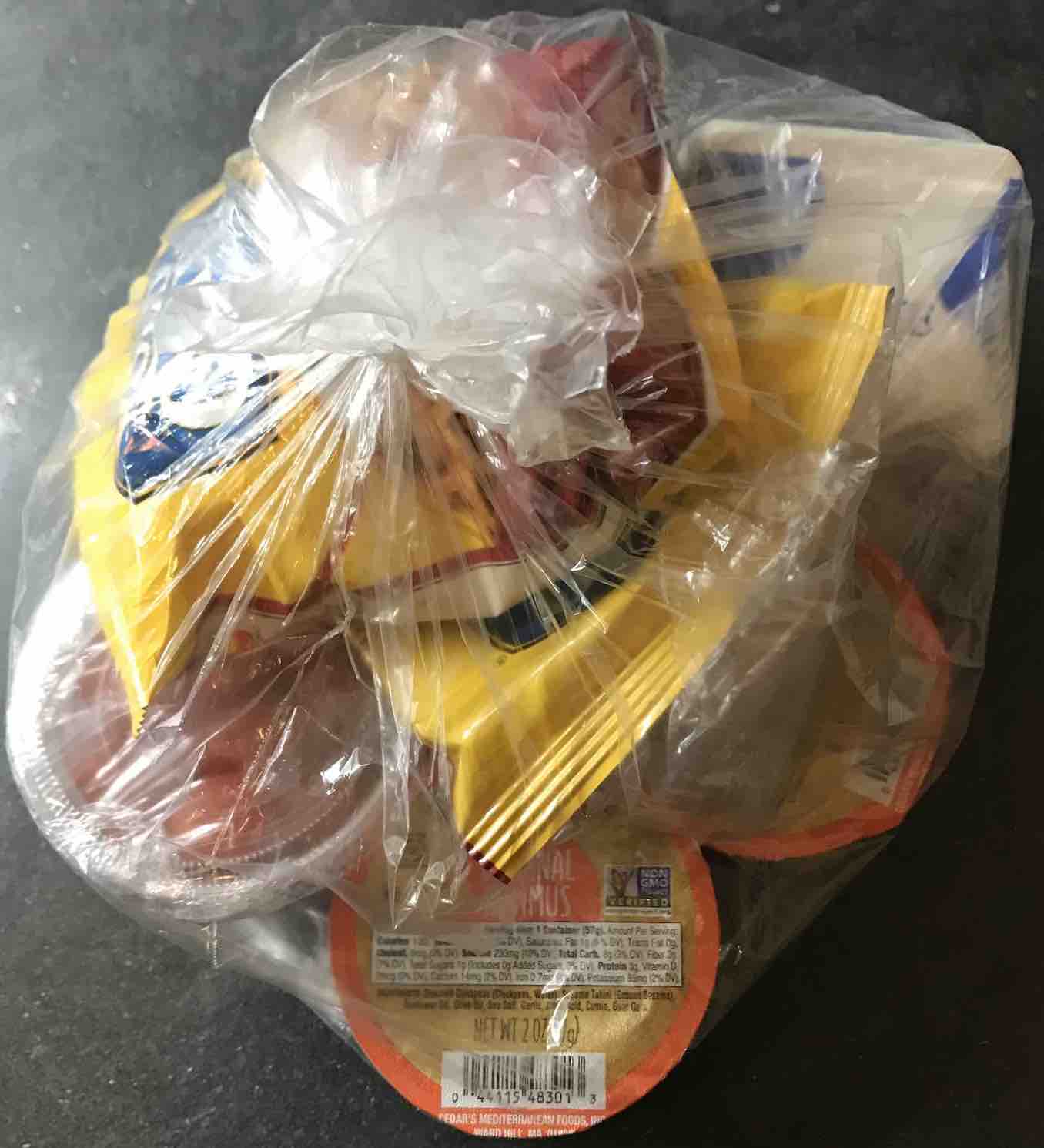 Most Grab & Go meals are bundled into whole-meal bags, so you can pick up a meal (or two) in one hand. No need for serial decisions on appetizer, main course, desert, and beverage. The meals are ready when you arrive, so there is no wait. Almost every meal includes a napkin and plastic teaspoon. In these ways, they are convenient.
This good news is also bad news:
You can choose among meals, but you have no choice about the components. Without exception, the beverage in every meal is milk: sometimes plain, sometimes chocolate; sometimes fresh, sometimes boxed ultra-high-temperature (UHT); sometimes low-fat, sometimes no-fat. If you have dietary restrictions or strong preferences, no single meal is likely to conform to them.
The meals are packages of packages of food, and sometimes even packages of packages of packages of food. Getting through the packaging to the food itself can require body-builder strength or sharp utensils.
A spoon is not optimal for some of the ingredients (such as french fries).
Varied?
Grab & Go does, indeed, offer a choice of meals, including, as mentioned earlier, vegetarian, Kosher, and Halal. But each of those categories usually describes exactly one meal, so there is little intra-category variety. And New Yorkers who adhere to vegan or organic diets are out of luck.
Breakfasty main dishes rotate among dry cereal, bagels with cream cheese, mini-waffles, and occasionally banana bread. You can usually choose among lunch and supper main dishes such as beef, turkey and cheese, and peanut butter and jelly sandwiches, hamburgers, bean and cheese burritos, bagel pizza, and hummus with pretzels.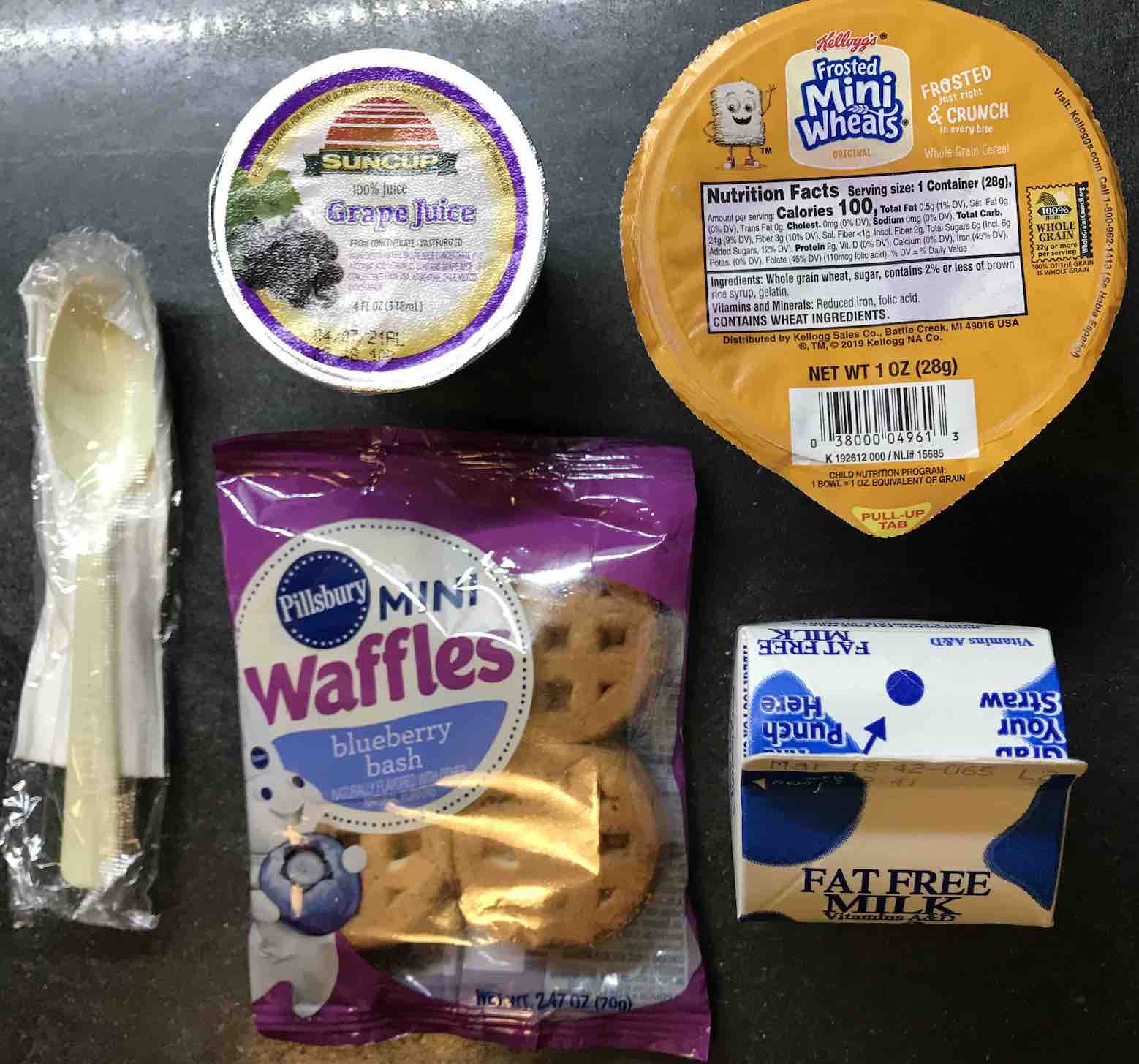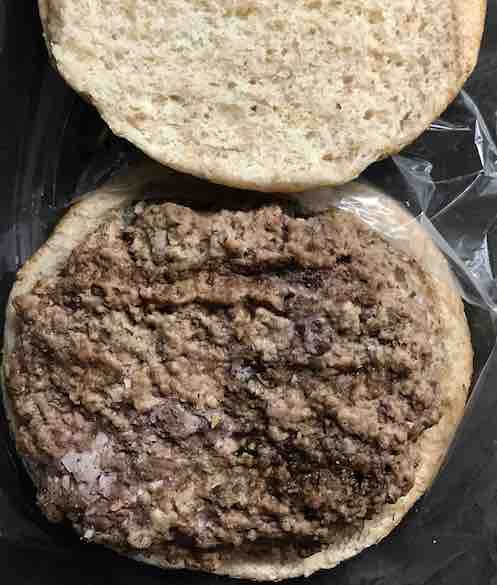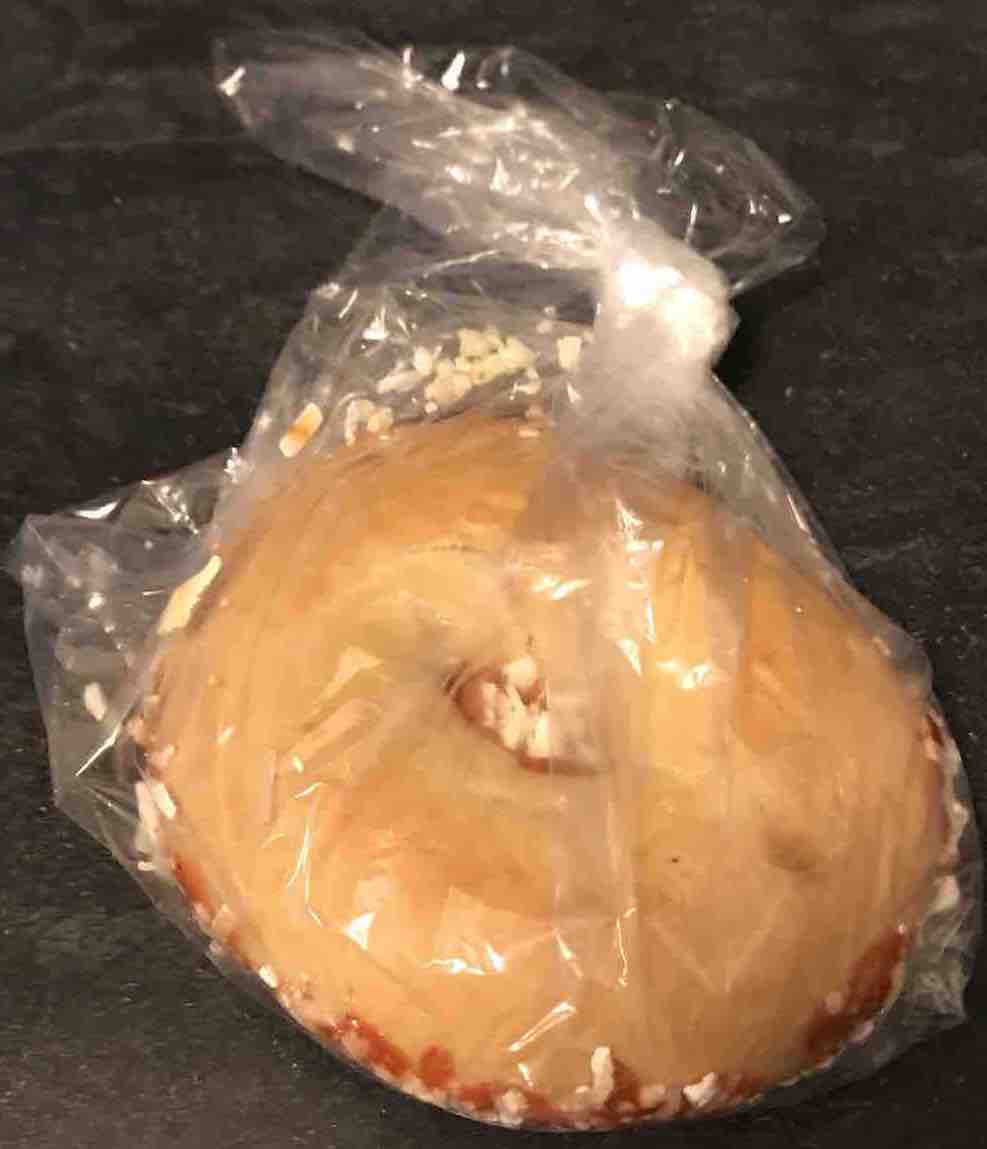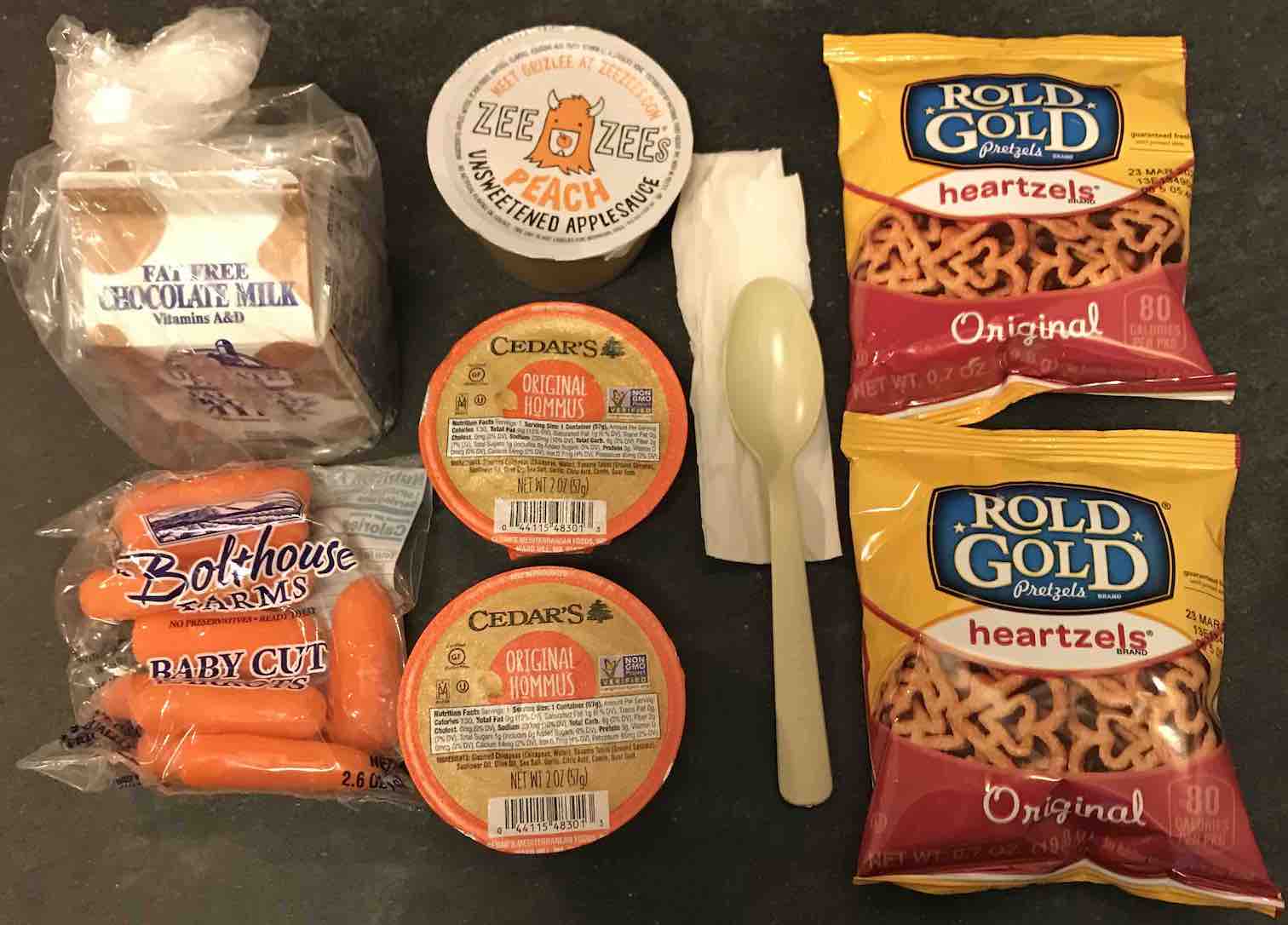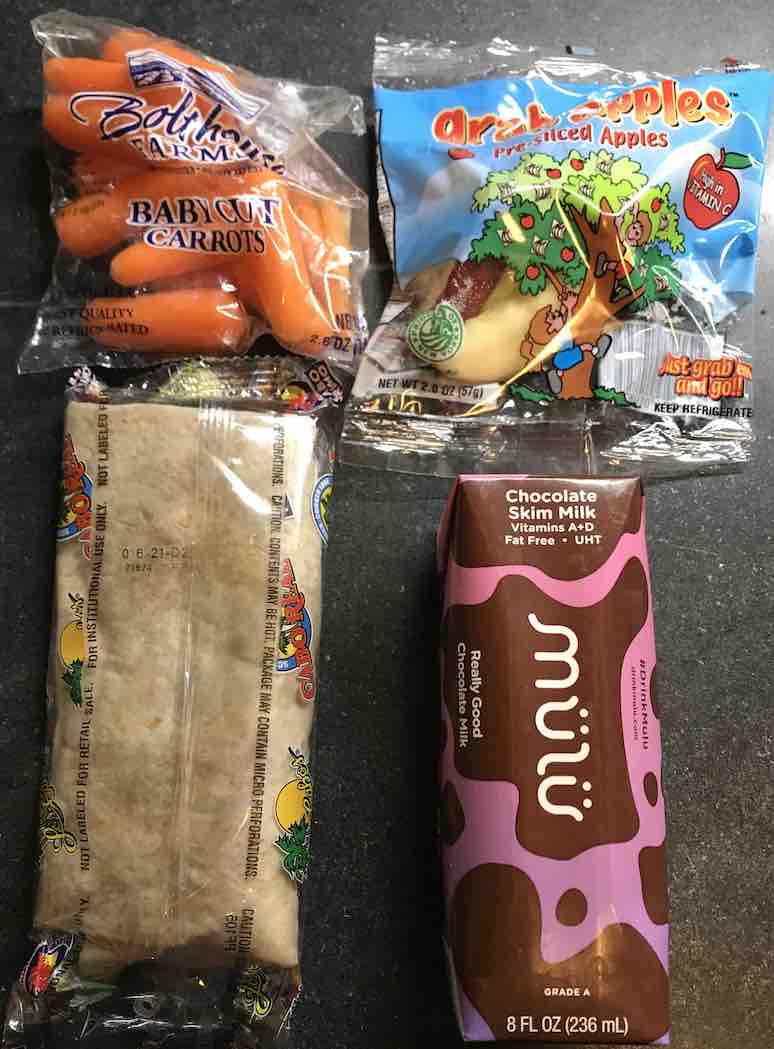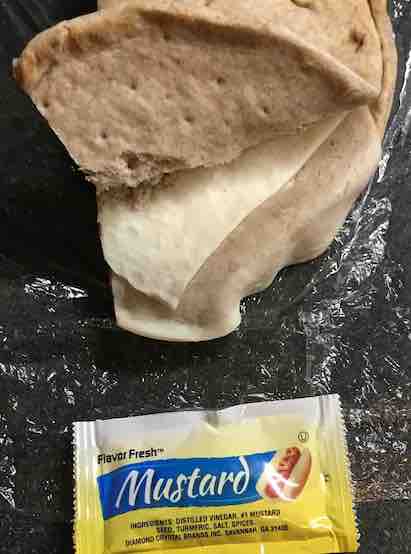 Accompanying the main dishes are packaged fruit dishes, usually bagged apple slices or cartons of apple-and-peach sauce or fruit juice, usually grape, apple and pear, orange, or orange and tangerine.
While this variety might at first seem adequate, the vegetables exhibit shocking monotony. Until June of 2021, the only vegetable in about 80% of the meals was Bolthouse Farms baby carrots. THen suddenly cherry tomatoes began to claim the title of one-and-only vegetable. Nothing leafy or cruciferous, ever. No cabbage, bell pepper, spinach, avocado, radish, onion, cauliflower, squash, eggplant, or olives, to name a few omissions. The advice of the Dietary Guidelines for Americans, 2020–2025, to eat Vegetables of all types—dark green; red and orange; beans, peas, and lentils; starchy; and other vegetables does not seem to have guided the meal planners.
On one occasion I was offered chicken with broccoli. It turned out to be chicken with french fries. This is not uncommon. When you ask what the meals contain, you may get inaccurate answers.
But there are rare exceptions. Out of a dozen meals, you might find one with a deviant vegetable, such as chickpeas, corn, or white or red or green beans. Out of another dozen, a genuine whole apple or clementine may turn up.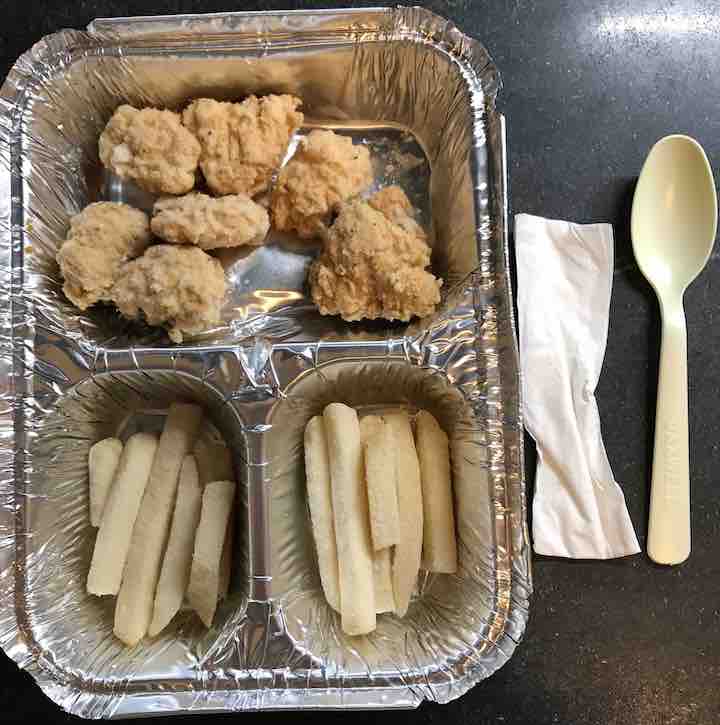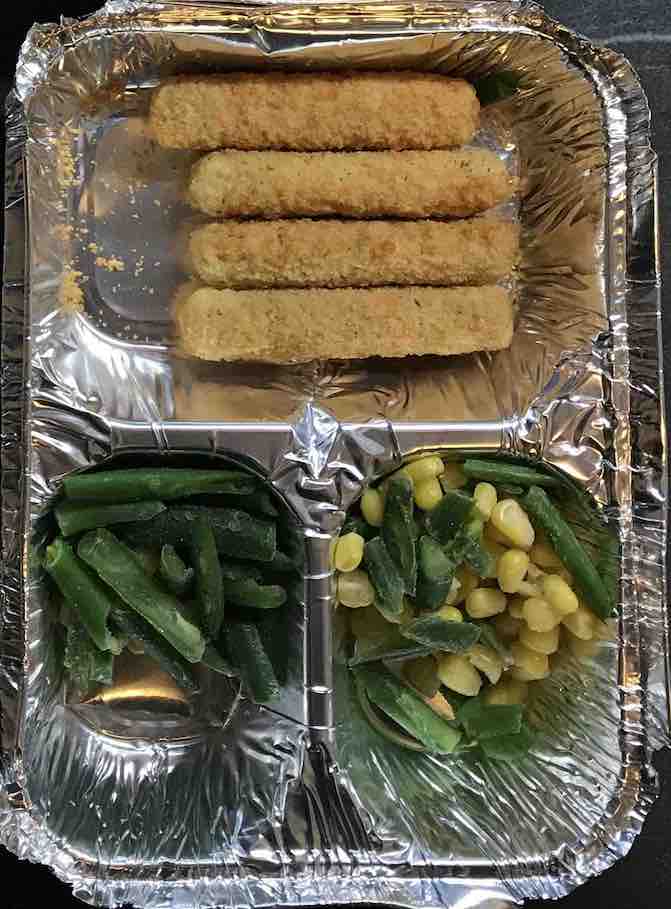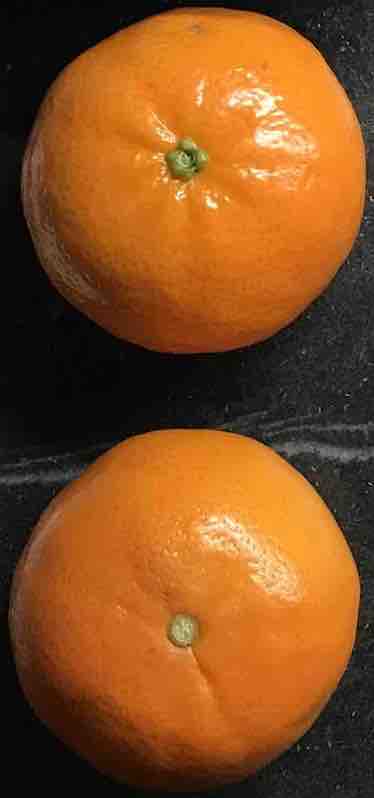 Fresh?
The interior packaging is often imprinted with best-by or sell-by dates. Those dates are always in the future. But the time until expiration varies greatly, from a day to months.
So, in terms of shelf-life, the food is fresh. In the fresh-produce sense, though, freshness is in short supply.
Delicious?
The taste of almost everything in a Grab & Go meal is mild—others would say simple, plain, or bland. Some manufactured mélanges (such as the turkey, which is really a slice of turkey sausage) hardly taste at all. That is not entirely a complaint. There is no risk of over-adulteration. No need to worry about excessive pepper, ginger, or cilantro. Some meals include pouches of mustard and/or mayonnaise, but otherwise you provide your own spices. The jalapeño-laced burritos are the exception.
Taste-wise, the meals avoid offense. Conversely, they avoid excitement. Adjectives like succulent and exquisite just don't apply.
Nutritious?
The kitchen-packaged food seems wholesome, and the factory-labeled food is partly strong on whole-grain, no-sugar-added, low-salt virtues. But the breakfast cereals are sugary (sweetened or frosted) versions of their classic siblings.
Some of the food is factory-packaged, but not labeled for individual sale, so discovering the ingredients requires research. The Cabo Primo burritos, for example, are identified only with a faint stock code 71674. While the manufacturer does not admit to using that code, the Missouri Department of Elementary and Secondary Education fully documents that product, reassuring you, for example, that it satisfies the Whole Grain-Rich Criteria of the National School Lunch Program.
Environmentally benign?
In the packaging-waste epidemic exacerbated by the COVID-19 pandemic, Grab & Go is partly to blame. Its strategy of embedded packaging wastes plastic in two ways:
Each meal is housed in a half-dozen packages, including even a plastic sleeve wrapping the spoon and napkin.
The food is packaged in portion sizes. So, if you are going to grab a week's supply of meals, they will likely include about 7 plastic pouches of sliced apples, each 2 ounces, or roughly a third of an apple. Since most customers presumably arrive with their own bags, Grab & Go could instead hand over 2 or 3 whole apples, with zero packaging, while also avoiding the environmental damage arising from the manufacturing process. Mini-packages could also be replaced by multi-serving packages of milk, bagels, breakfast cereal, cheese, and so on.
The strategy of whole-meal bundling likewise produces waste:
Not everybody is willing and able to eat everything. If you exhibit lactose malabsorption, a condition that the Mayo Clinic says is most common in people of African, Asian, Hispanic and American Indian descent and that affects an estimated 36% of the United States population (add another 2% for vegans), you will need to shun all that milk, and you will not know whether the unlabeled cheese slices are safe for you.
Packaging every meal with a napkin may be innocuous, but a plastic spoon? A spoon lasts longer than one meal. The spoons are labeled compostable, but that is greenwashing.
The components vary greatly in shelf life. The regular milk is good for a few days, but the pretzels last for months. If any component reaches the end of its useful life, the whole meal is discarded.
Visit a location on a Friday afternoon shortly before closing time, and you may see dozens of meals not yet claimed. Ask what will happen to them, and the answer varies. I have been told (1) they will all be trashed, (2) some will be trashed but others can be distributed the next week, and (3) all will be trashed unless the Friday afternoon lady shows up to take away what is left.
Bundling by restaurants is common, of course, but other establishments can argue that each dish is a work of culinary art with chef-calibrated ingredients. Grab & Go cannot make that claim. So why the bundling? Possible motivations:
Paternalism: People will generally eat what you give them, so give them a balanced meal instead of free choice. Otherwise they might walk off with a shopping bag full of hamburgers and nothing else.
Logistics: We want people to grab meals and go, with a minimum of interpersonal contact. À-la-carte selection would slow distribution and put all participants at greater risk of illness.
Bottom line
Grab & Go is, arguably, an ambitious experiment in a universal human right to food, but it does not seem to have been designed as an experiment. That would have entailed, for example, varying the methods of promotion, the days and hours of operation, the meal formats, and the share of prefab versus kitchen-prepared food, while measuring popularity, satisfaction, nutrition outcomes, and waste.
Nor did the food czar claim to practice dogfooding: She did not say My staff and I eat the Grab & Go meals ourselves; we think you'll savor them as much as we do.
Food czar Garcia resigned on 7 September 2020 (to run for mayor) and was not replaced. There has been no indication that any official re-evaluation of Grab & Go is planned.
Instead of rigorous studies, then, we New Yorkers can learn lessons from this project and apply them in advocacy and action. How? As a start, eat! If you didn't before, you now know that this restaurant chain exists and when it is open. With effort, you can find a location on the (above-linked) map. The super-friendly (and at times lonely) staff will welcome you. If you have moral qualms, go late on Friday and rescue some meals from the dump.
And, especially if you know New Yorkers who suffer from food insecurity, spread the word.